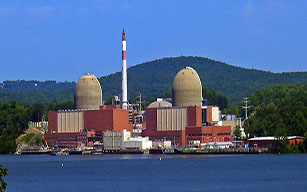 Health Department staff conduct surveillance around the Indian Point nuclear power reactors and other facilities which utilize or discharge radioactive materials. Radiological training for the Indian Point Emergency Preparedness Plan involves hundreds of hours annually for dose assessment, field monitoring and emergency operating center staff, in preparation for the federally observed drill. The Nuclear Regulatory Commission regulates commercial nuclear power plants and other uses of nuclear materials, such as in nuclear medicine, through licensing, inspection and enforcement of its requirements.
Nuclear power plant accidents may release radioactive iodine and other radioactive substances. Taking Potassium Iodide (KI) may help protect you from absorbing radioactive iodine into your thyroid. Learn more about KI.
Report a Concern
Call the United States Nuclear Regulatory Commission (NRC) for non-emergency safety concerns regarding nuclear safety, NRC's Toll-Free Safety Hotline: (800) 695-7403
Resources
Booklets/Brochures
The Department of Health requests the assistance of Radioactive Materials Licensees with efforts to reduce the potential hazards of contamination of household waste with radioactive isotopes.
In the course of protecting our communities from radiation hazards, radiation monitors have detected contamination at several waste collection sites around the county. While the contamination has ultimately proven to be at extremely low levels, the sources have included human excreta from individuals treated with radioactive iodine for thyroid conditions. The human manpower and expense to municipalities involved with each incident is significant.
After several discussions with veterinary and medical providers, and with officials from the Radioactive Materials section of the New York State Department of Health, the Westchester County Department of Health has developed specific recommendations for the management of potentially contaminated household waste. Please make use of this information when counseling patients treated with radioactive isotopes. By making your contaminated waste storage facilities available to patients for their own soiled diapers, sanitary pads, tissues or other similarly contaminated waste products you will be helping keep our communities free of all radiation hazards.
Read the recommendations for proper waste disposal procedure for I-131 patients and following your cat's Radioactive Iodine therapy.
Environmental health professionals work to protect the public from needless radiation exposure. They periodically inspect all medical and dental x-ray facilities.