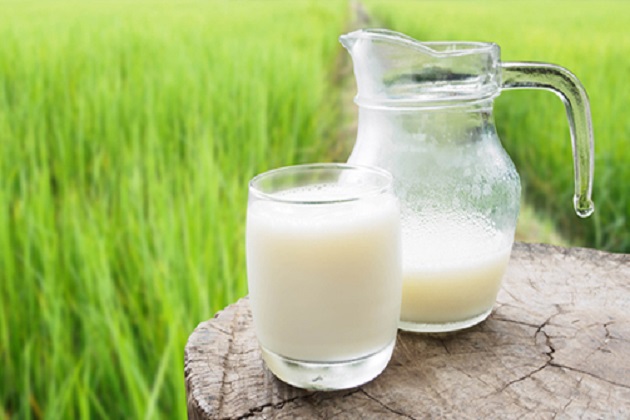 New York State is warning residents about consuming raw milk from a farm in Lancaster County, Pennsylvania after human Brucellosis infection was linked to Miller's Biodiversity Farm.
ALBANY, N.Y. (December 24, 2018) – The New York State Departments of Health and Agriculture and Markets today warned residents about potential dangers of consuming raw (unpasteurized) milk and other dairy products. A New York State resident was recently diagnosed with a RB51 infection, which is a strain of the Brucella abortus bacteria.
The investigation identified raw milk or other dairy products from Miller's Biodiversity Farm in Lancaster County, Pennsylvania as the likely source of the infection. Individuals who consumed raw dairy products from the farm should immediately discard the products and contact their healthcare provider to discuss preventive treatment.
Pet owners with concerns about exposure should talk to their veterinarians.
State Health Commissioner Dr. Howard Zucker said, "Raw milk products can contain harmful bacteria which can pose serious health risks. Pasteurization standards are in place to protect the public from diseases which are transmitted in raw milk and dairy products. It is critical for New Yorkers to understand the dangers of these products and avoid their consumption."
State Agriculture Commissioner Richard A. Ball said,"We are working with our counterparts in the New York State Department of Health, as well as authorities in Pennsylvania, to investigate this illness, which resulted from the purchase and consumption of raw cow's milk. We want to remind New York consumers about the potential danger of buying raw milk from this company and others like it."
New York State Department of Health's Wadsworth Center Laboratory, in conjunction with the Centers for Disease Control and Prevention, confirmed the infection. The individual is being treated and is doing well. This is the third individual infected with RB51 due to raw milk consumption confirmed in the United States in the last two years. The other two individuals, who were both diagnosed in 2017, resided in Texas and New Jersey.
After New York State officials notified the Pennsylvania Department of Agriculture (PDA) of the likely source, PDA issued an order of quarantine to stop the sale of dairy products made from raw cow's milk from the farm while the investigation continues.
Raw milk does not provide the benefits of pasteurization, which heats milk to a certain temperature for a set period of time to kill harmful bacteria that can cause diseases such as listeriosis, salmonellosis, campylobacteriosis, typhoid fever, tuberculosis and brucellosis. New York State prohibits the purchase of raw milk except on the farms where the milk is produced and subjects in-state sellers to monthly inspections and testing.
Eating or drinking Brucella contaminated raw milk and other dairy products can cause human infection. Brucellosis can cause a range of symptoms including fever, sweats, chills, weight loss, headache, fatigue and muscle and joint pain. Symptoms may appear up to six months after exposure. In severe cases, infections of the bones, joints, reproductive organs, central nervous system or lining of the heart may occur. The infection also can cause fetal loss in pregnant women.
For more information:
Pennsylvania Department of Health: Letter to Consumers regarding raw milk
Pennsylvania Department of Agriculture
Measles Alert
With the largest measles outbreak in the state in decades underway in nearby Rockland County, Westchester County Health Commissioner Sherlita Amler recommended County residents verify their own measles vaccine status, and assured County residents that the Health Department is closely monitoring the situation.
Sherlita Amler, MD, said: "We are in close communication with Rockland County and New York State health officials and are prepared to respond should any cases develop here. Measles is very contagious and can be dangerous for anyone who is unvaccinated or whose natural immunity is suppressed. Now is a good time to check with your doctor about your own and your children's measles vaccine status, and to get the MMR vaccine if you are not up to date."


The MMR vaccine provides protection from measles, mumps and rubella. The County Health Department offers appointments for MMR vaccine at no cost for children and adults who are under-insured, uninsured or are college students. To schedule a Friday vaccine visit at the County clinics in Yonkers or White Plains, call (914) 995-5800.


Individuals are considered protected or immune to measles if they have had a lab test confirming immunity. Those born before 1957, and those who have medical documentation of having received two doses of measles, mumps, rubella (MMR) vaccine, are also considered immune. Children usually get the first dose of MMR vaccine when they are 12 to 15 months old and again when they are 4 to 6 years old.


If you are unsure if you are immune to measles, contact your healthcare provider. Two doses of the MMR vaccine can offer 97% protection from the measles.


Amler added: "Anyone planning to travel overseas with a child six months or older who has not yet received a first dose of MMR should talk with their child's doctor about getting the vaccine before leaving the U.S. This will provide some protection against measles outbreaks abroad. Your child will still need two doses of MMR at the regular time."


To check the latest travel notices about measles, go to www.cdc.gov/measles/travelers.html


In New York State, measles immunization is required of children enrolled in schools, daycare and prekindergarten. Since August 1990, college students have also been required to demonstrate immunity against measles.


Measles is a highly contagious respiratory disease caused by a virus that is spread by direct contact with nasal or throat secretions of infected people. Measles can be dangerous, especially for babies and young children, as it can lead to pneumonia, brain damage, deafness and death. Others who are at high risk for complications if they get the measles include pregnant women who are not immune, as well as those who are immunocompromised or immunosuppressed (when your body can't fight disease). About one out of four people who get measles will be hospitalized.


Symptoms include a fever, rash, cough, conjunctivitis (red watery eyes) or runny nose. People are considered infectious from four days before to four days after the appearance of the rash. Symptoms usually appear 10-12 days after exposure but may appear as early as 7 days and as late as 21 days after exposure.


If you think you may have been exposed and have symptoms consistent with measles, contact your health care provider, a local clinic, or a local emergency department before going for care. This will help to prevent others from being exposed.


Health care providers should immediately report all suspect cases of measles in Westchester to the Westchester County Department of Health Communicable Disease Program staff at (914) 813-5180 during regular business hours, or (914) 813-5000 after hours/weekends.

Additional Resources:
Measles Fact Sheet: http://www.health.ny.gov/diseases/communicable/measles/fact_sheet.htm
CDC's Travelers' Health website: http://wwwnc.cdc.gov/travel/destinations/list
CDC Measles Cases and Outbreaks: http://www.cdc.gov/measles/cases-outbreaks.html
Measles photos: http://www.immunize.org/photos/measles-photos.asp