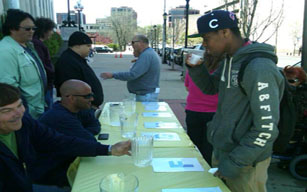 The county has put together a host of programs to make Westchester's water quality second to none. Here are some of those initiatives:
Through the Sunset Legislation, the county made a commitment to eliminate pesticides on county property.
Changes in the sanitary code protect the environment and keep our water clean. Sewage pumping stations are required to file annual reports documenting operations.
Thanks to the Neighbor Notification Law, Westchester residents now have the right to know what pesticides are being sprayed on neighboring properties and in their schools and daycare centers.
The Department of Health has received authority from the New York State Department of Environmental Conservation to implement and enforce the Petroleum Bulk Storage Code. Under this code, the Department of Health is responsible for registering, monitoring, testing, and, where necessary, requiring remediation of code violations for all petroleum bulk storage tanks where the aggregate amount exceeds 1,100 gallons within a property. Violations of the code can result in fines of up to $1,000 per day.
Learn more about the county's watershed protection program.
Brochures on Watershed Protection and Pesticide Use Reduction
Pesticide Use Reduction Resources