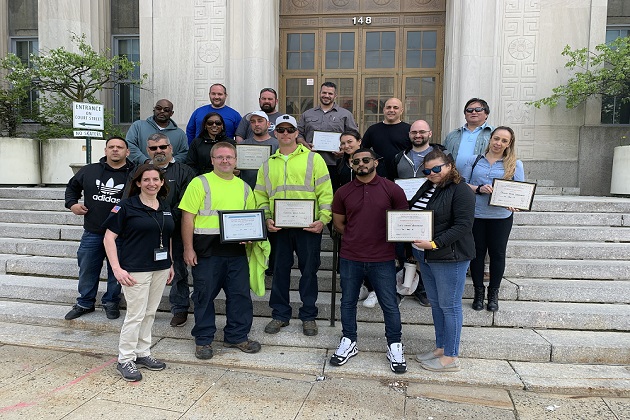 Westchester's best-tasting water flows from faucets in Elmsford, according to an impartial panel of pedestrians who sipped their way through the Westchester County Department of Health's annual water taste test today in White Plains.
One hundred thirteen people sampled water from 9 of the county's public water suppliers on Martine Avenue in White Plains and then voted for their favorite without knowing where it was from. This friendly annual competition promotes the excellent quality of Westchester tap water, and highlights the role of the county health department in assuring drinking water quality.
"After drinking tap water from around the County today, I can tell you that Westchester water tastes great, and we shouldn't take this natural resource for granted," said County Executive George Latimer. "It's reassuring to know we have professionals working behind the scenes to maintain and assure the high quality of our drinking water."
The winner will advance to a regional competition, and the regional champion will compete for statewide bragging rights at the Great New York State Fair in Syracuse at the end of the summer.
The experts say a good glass of water should be clean, crisp, clear and cool. The county health department and the water suppliers sample the waters routinely to ensure all quality standards are met. All contest participants meet all water quality standards.
The nine water suppliers who competed were: Cortlandt Consolidated Water District; Elmsford Water District; Greenburgh Water District #1; Mount Vernon Water Department; Ossining Water Department; Peekskill Water Department; Suez Water Westchester, Inc.; White Plains Water Supply and Yonkers Water Supply.
In 1974, Congress first enacted the Safe Drinking Water Act to protect public health by regulating public water systems. The federal Environmental Protection Agency sets legal limits for more than 90 contaminants in public drinking water supplies. These limits, as well as water testing schedules and methods that water systems must follow, are enforced in Westchester by the County Health Department. Water systems must routinely sample their water and provide the results to the health department for review. Health Department engineers and sanitarians take their own samples to assure drinking water in Westchester meets all sanitary standards. In cases when the water doesn't measure up, the health department assures that customers are notified, and that the water is treated or remediation takes place to bring the water up to regulatory standards. The health department also reviews and approves any construction or replacement of tanks, pipes and water mains within the systems.
Drinking Water 101
There are 100 community public water suppliers in Westchester County. If you have questions about your drinking water, you should contact your water supplier. To find out who your supplier is, use this interactive map.
Residents who would like to arrange testing to determine whether their own pipes or solder are leaching lead into their drinking water may contact their water supplier to ask whether the supplier will provide testing. If this is not available, residents can identify a certified commercial lab and arrange testing by using this NYSDOH search tool.

Westchester County Health Department regulates the quality of public drinking water. Each public water supplier routinely tests the drinking water and provides water test results reports for review by the health department. In addition, the health department regularly conducts spot checks of public water supplies and collects water samples for testing.

When the water quality is compromised, the health department may issue a water use advisory. The most common water use advisory is a boil water alert issued for a water main break or other event. After corrective actions have been taken, the water pressure has been restored and satisfactory water sample test results are available for the affected area, the department alerts residents that the water is safe to drink.

Approximately 6% of Westchester County residents are served by private wells. In Westchester County, private wells must be tested upon the sale of the property, for leased property and prior to the use of water from new wells, in accordance with the Private Well Water Testing Law. The parameters tested include bacteria (total coliform); chloride; nitrate; pH; some heavy metals; and organics. Ongoing testing is required for leased property at least once every five years.

While not required by law, homeowners are advised to take special precautions to ensure the protection and maintenance of their drinking water supplies and to test their water periodically. The United States Environmental Protection Agency (USEPA) recommends that private water supplies be tested annually for nitrate and coliform bacteria to detect contamination problems early, or more frequently, if you suspect a problem. For more information, please visit the USEPA website.

Resources:
Find your drinking water supplier (interactive map)