The Westchester County Local Emergency Planning Committee (LEPC) is a team of appointed representatives established for the purposes of hazardous materials planning and chemical risk assessment.
The LEPC was established pursuant to the requirements of the 1986 Federal Superfund Amendments and Reauthorization Act (SARA) Title III, also known as the Emergency Planning and Community Right to Know Act (EPCRA).
The LEPC consists of representatives from government, industry, police, fire, emergency medical services, hospitals, the media, environmental and community groups, and citizens.
What does the LEPC do?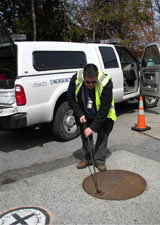 Develops plans for responding to hazardous materials incidents in Westchester.
Works in partnership with government, industry, citizens, environmental and public interest groups.
Collects information from local facilities that use, store or manufacture chemicals.
Reviews and analyzes information from chemical facilities to assess potential risks to the community from accidental releases.
Provides information to municipalities, fire and police departments, and citizens about chemicals in the community.
Conducts drills and exercises to test the effectiveness of the hazardous materials response plan.
Learn more about the LEPC and become involved
LEPC meetings are held at the Westchester County Department of Emergency Services located in Valhalla, NY 10595 and are open to the public. Read about hazardous chemical storage.
Upcoming 2018 meetings:
Meetings will be held 9 - 11 a.m. otherwise indicated below.

Minutes
Prior meeting presentations and handouts

June 2, 2015 presentations
July 11, 2013 presentation
June 13, 2013: "Your Right to Know About Chemicals in the Community (25 years of EPCRA)"
For further information, contact:
Brain Anderson, LEPC Chair
E-mail: banderson@pace.edu
Peter McDonough, LEPC Vice Chair
E-mail: ptm1@westchestergov.com
Phone: (203) 313-1580
Phone: (914) 813-5400
Mailing address for LEPC
Local Emergency Planning Committee (LEPC)
c/o Westchester County Office of Emergency Management
200 Bradhurst Avenue
Hawthorne, NY 10532
Phone: (914) 864-5450
Tier II Reporting Requirements and Procedures
Westchester County accepts E-Plan for Tier II submittals. Visit the following links for further instruction:
Facilities subject to SARA Title III, Sections 302-303 or 311-312, must file annual reports with the LEPC. The report consists of a Tier Two Emergency and Hazardous Chemical Inventory, Site Specific Plan and the Tier Two Additional Information Form.
Tier Two Emergency and Hazardous Chemical Inventory forms, include instructions for completing the form and the Tier Two reporting software.
Resources
Westchester County Department of Health (WCDOH)
Spill Reporting Hotline
Phone: (914) 813-5000
U.S. Department of Labor
Occupational Safety and Health Administration (OSHA)
Tarrytown, NY
Phone: (914) 524-7510
NYS Department of Environmental Conservation (NYSDEC)
Spill Reporting Hotline
Phone: (800) 457-7362
U.S. Environmental Protection Agency (USEPA)
EPCRA Information Hotline
Phone: (800) 535-0202
RCRA, Superfund and EPCRA Hotline Phone Numbers
National toll-free: (800) 424-9346 (outside of DC area)
Local: (703) 412-9810 (within DC area)
National toll-free for hearing impaired: (800) 553-7672 (TDD)
The hotline is open from 9 a.m. to 6 p.m. ET, Monday - Friday, except federal holidays.
The Resource Conservation and Recovery Act (RCRA)/Underground Storage Tanks (UST), Superfund and EPCRA hotline answers factual questions about EPA regulations and programs under RCRA, Superfund, and EPCRA, and responds to requests for relevant documents.