Flu Information
The county will hold free walk-in clinics this fall at four community organizations for residents who lack insurance or whose insurance doesn't cover vaccines. Free flu shots are available for residents 19 years of age and over. The Tdap, pneumococcal and MMR vaccines are available to uninsured residents or for those whose insurance does not cover the vaccines. Health navigators will be on site to help residents register for health insurance.
The clinics will be held at:
Grace Community Church, White Plains
Hope Community Services, New Rochelle
Neighbors Link, Mount Kisco
Don Bosco Community Center, Port Chester
Each year in the U.S., more than 200,000 people are hospitalized with flu complications. People most at risk for complications from the flu include pregnant women, adults age 50 and older, children under the age of five and their caregivers, residents of nursing homes and other long-term care facilities and anyone who has certain underlying medical conditions.
To prevent spreading the flu, cough or sneeze into your elbow and wash your hands often with soap and water. If you do get a respiratory infection, stay home until 24 hours after your fever subsides to avoid spreading your germs. Clean surfaces you touch frequently, such as doorknobs, water faucets, refrigerator handles and telephones. Get plenty of rest, exercise and eat healthy food.
Help prevent the spread of the flu by following the Four "C"s.

Contact: Avoid close contact with people who are sick. If you are sick, keep your distance from others to prevent them from getting sick. Equally important is avoiding contact with your eyes, nose and mouth since the virus spreads by entering the mucous membranes in these areas.
Contain: If you are sick, stay home from work, school and public areas. By doing so, you will help prevent others from getting sick.
Cover: Cover your nose and mouth with a tissue when you sneeze or cough to protect others from getting sick. Since you may be contagious even before you realize you are sick, it is important to make this habit routine.
Clean: Clean your hands in hot soapy water often. Hand washing is one of the most effective, yet overlooked ways of preventing the spread of illness.
Where else can I go to get a flu vaccine?
Adults looking for a flu shot should check with their primary provider or a local pharmacy chain.
Also, you can try one of the local neighborhood health centers listed below. Be sure to call ahead to find out if they have vaccine in stock.
Neighborhood Health Centers
Mount Vernon Neighborhood Health Center
107 West Fourth Street,
Mount Vernon, New York 10550
Phone: (914) 699-7200
Yonkers Community Health Center
30 South Broadway,
Yonkers, New York 10701
Phone: (914) 968-4898
Greenburgh Neighborhood Health Center
295 Knollwood Road,
Greenburgh, New York 10607
Phone: (914) 989-7600
Hudson River HealthCare
Peekskill Health Center
1037 Main Street, Peekskill, NY 10566
For an appointment call: (914) 734-8800
Yonkers - Park Care
2 Park Ave, Yonkers, NY 10703
For an appointment call: (914)964-7862
Yonkers - Valentine Lane
503 South Broadway, Yonkers, NY 10705
For an appointment call: (914)965-9771
Open Door Family Medical Centers
Mt. Kisco Open Door
30 West Main Street
Mt. Kisco, New York 10549
Phone: (914) 666-3272
Ossining Open Door
165 Main Street
Ossining, NY 10562
Phone: (914) 941-1263
Port Chester Open Door
5 Grace Church Street
Port Chester, NY 10573
Phone: (914) 937-8899
Sleepy Hollow Open Door
80 Beekman Avenue
Sleepy Hollow, NY 10591
Phone: (914) 631-4141
What do I need to know about the flu vaccine?
It's recommended for everyone six months of age and older, according to vaccine the Advisory Committee on Immunization Practices (ACIP).
Flu shots are widely available at the clinics listed above, the health department flu clinics (link), many pharmacies and some grocery stores.
The good news is that most people who have had a flu shot before will need only one dose. For the 2014-2015 season, the flu vaccine will contain the same strands as last year. There are two vaccines available, a trivalent vaccine that protects against three common strands, and a quadrivalent vaccine that protects against four strands.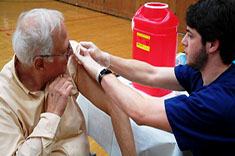 Flu shots are especially recommended for pregnant women, children age five and under, people age 50 and older, people with certain chronic medical conditions, people who live in nursing homes and long-term care facilities and health care workers or others who care for those at high risk for flu complications, including infants less than six months old, who are too young to be vaccinated.
While the flu shot is a good idea for most people, you should always check with your health care provider first, especially if you have a severe allergy to chicken eggs, have had a severe reaction to a flu vaccine or have developed Guillain-Barre syndrome within six weeks of getting a flu vaccine. Anyone with a moderate to severe illness with a fever should wait until they have recovered to get vaccinated.
Download these printable brochures and fact sheets