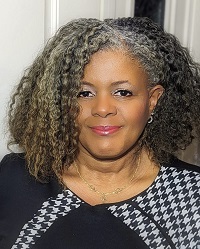 Board of Health Member --
Jewel F. Williams Johnson
Date Appointed: 2022
Represents: Legislator for District 8


Jewel F. Williams Johnson joined the Board of Health in 2022 as a representative of the Board of Legislature (BOL), where she currently represents District No. 8 and serves as chair of the BOL's Health Committee.
She was elected to the Westchester County Legislature in November 2021 succeeding her mother, Hon. Alfreda Williams, to represent the 8th Legislative District.
Legislator Johnson also serves on five other committees: Budget & Appropriations, Environment, Energy & Climate, Housing, Human Services & Equity and the Seniors & Youth Committees. Legislator Williams Johnson also serves as the Vice Chair of the Housing Committee and on the Budget & Appropriations' Labor sub-committee. She is also the appointed Board of Legislators (BOL) representative of the Westchester County Board of Health and the BOL member on the Community Services Board.
Leg. Johnson is the immediate past president of the Westchester Black Women's Political Caucus, Inc. (WBWPC); founder of the WBWPC Run Lead Strategy Laboratory; former member of the Westchester County Women's Advisory Board; guest lecturer on Politics at Lehman College; former Vice President, White Plains-Greenburgh Branch, NAACP; former Mentor Program Coordinator, Highview Elementary School; former President, Women's Ministry, Bethel Baptist Church; former Advisory Board Member, WCLA Choice Matters; former member, Town of Greenburgh Arts & Cultural Board and she is also an occasional contributor on Politics for The Westchester County Press to name a few. She also is a district leader with the Greenburgh Democratic Town Committee.
Professionally, Leg. Johnson has been an administrator at the Columbia University Irving Medical Center at New York-Presbyterian Hospital for more than 14 years.
Leg. Johnson went to the Greenburgh Central School District. She lives in White Plains with her husband, Lacy Johnson, her mother and their Dalmatian, Jasper.