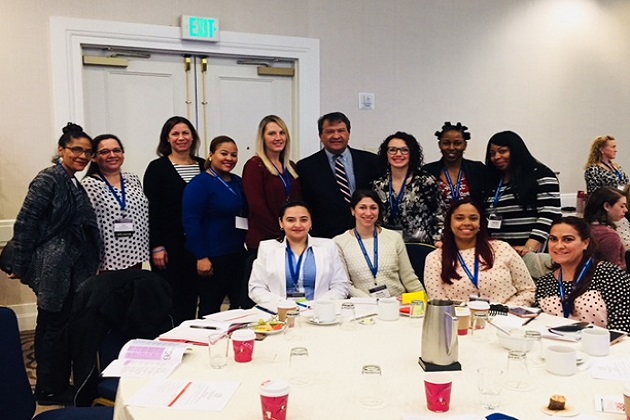 On March 26, County Executive George Latimer helped kick off the 40th Annual New York State WIC Association Conference hosted this year in Westchester County at the Crowne Plaza in White Plains. The County Executive welcomed nearly 400 guests representing over 70 WIC programs from across the state to the four day event which included workshops, panel discussions and success stories to assist with the continued delivery of high quality WIC services.
WIC, the popular name for the Special Supplemental Nutrition Program for Women, Infants and Children, provides supplemental foods, nutrition education, and referrals for health care and other support services. The Westchester County Department of Health WIC Program has been providing WIC services to the community since 1979 and currently serves approximately 8,000 participants annually at its offices in Yonkers & Port Chester.
Pregnant, breastfeeding and postpartum women, infants and children up to age five may be eligible for WIC if they live in New York State, are certified by WIC staff to be at nutritional risk and meet the WIC income guidelines. The maximum income for WIC eligibility is higher than that for Food Stamps, Medicaid or Public Assistance, so those who are not eligible for any of these programs may still be eligible for WIC.
WIC provides breastfeeding support and counseling, and nutrition education to promote a healthy lifestyle. These efforts have led to a decline in childhood obesity and overweight in children enrolled in WIC, as well as improved birth outcomes through decreased infant mortality rates, a lower incidence of preterm deliveries and a reduction in low birth weight babies. Nationally, about half of all infants benefit from WIC services.
WIC also provides eligible clients with monthly benefits to purchase nutritious, WIC-approved foods. In addition, families enrolled in the WIC Program may participate in the New York State Farmers Market Nutrition Program (FMNP). The FMNP is a federally funded, state administered program that was created to provide and promote increased consumption of fresh, locally grown fruits and vegetables to WIC participants. WIC food benefits issued through the Westchester County Department of Health's WIC programs generate approximately $6 million annually in food purchases throughout Westchester communities.
To find out more about the WIC Program or to schedule an appointment, contact one of the Health Department's WIC offices:
Yonkers WIC Office
20 South Broadway, 2nd floor
Yonkers, New York 10701
Phone: (914) 231-2510
Port Chester WIC Office
1 Gateway Plaza, 1st floor
South Main Street
Port Chester, NY 10573
Phone: (914) 813-7244