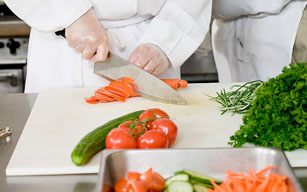 Restaurant managers have a lot on their plates, but food safety can be second to none when running a food service establishment. That's why the Westchester County Department of Health is helping restaurateurs keep their customers safe by providing them with opportunities to learn how to protect the food they serve from intentional contamination.
Thanks to funding from a grant awarded by the Food and Drug Administration, the Health Department offered a free Food Defense Workshop that was attended by nearly 30 food service professionals. Strategies to assure the safety of food supplies, deliveries and storage, as well as how to identify and report suspected problems were all part of the keynote presentation.
Public health sanitarians aim to promote healthy people and communities through education and regulation of food service establishments.
Did you know that there are about 4,000 establishments serving food in Westchester County, including restaurants, mobile food carts and deli's? The Westchester County Health Department inspects these establishments and those inspections can be viewed and downloaded.
State and county sanitary codes are enforced by public health sanitarians to ensure that the public is served food that is healthy and safely prepared. Restaurants and mobile food vendors receive unannounced inspections routinely throughout the year. Random samples of milk, frozen desserts and utensils are taken to find and correct possible food contamination.
Working with public health nurses and physicians, sanitarians promptly investigate incidents of suspected foodborne disease. Public health sanitarians also respond to fires involving food service establishments. As a result of fire damage, sanitarians may order food products to be condemned or destroyed.
All food service establishments must be aware of the Food Allergy Notification Law. Restaurants can download the pre-set Food Allergy Labels, print or copy onto label sheets and apply to printed menus.
Restaurateurs who want to perform major renovation or construction of food service establishments must have their proposed plans approved first to assure that appropriate equipment and procedures are in place.
Food service owners and operators attend a Food Handler's Training course designed and developed by this department. Since the course began in 1985, thousands of food service operators have attended intensive classes, presented in cooperation with Westchester Community College.
The Health Department is active in assuring that mass gatherings and public functions maintain safe and healthful conditions.
Important Phone Numbers
Westchester County Health Department: Food borne illness complaints, public health complaints and 24 hour emergency phone line (914) 813-5000
Food and Drug Administration (FDA) Complaints: (425) 483-4949
National Meat and Poultry Hotline: (800) 535-4555
New York State Restaurant Association: (800) 452-5212
New York State Department of Health: (800) 458-1158


COVID-19 Guidance Signs for Food Service Operators & Staff

Food Service Establishment Regulations and Laws
Food Safety Handlers Course
Forms

Recycling information

Health Advisories

Free Handwashing Posters