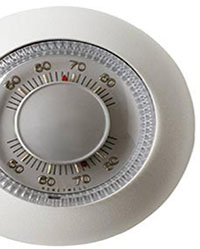 Heat must be supplied from October 1 through May 31 to tenants in multiple dwellings. If the outdoor temperature falls below 55°F between the hours of six a.m. and ten p.m., each apartment must be heated to a temperature of at least 68°F. If the outdoor temperature falls below 40°F between the hours of ten p.m. and six a.m., each apartment must be heated to a temperature of at least 55°F (Multiple Dwelling Law § 79; Multiple Residence Law § 173; NYC Admin. Code § 27-2029). See VII. UTILITY SERVICES (page 23) of the Tenant's Rights Guide (New York Attorney General's Office)
Tenants should speak to their building manager or landlord first to try to resolve any landlord-tenant complaints they have. If this does not lead to a resolution, such problems can usually best be addressed by your local town/city building department.
For information on getting help if your apartment, workplace, school or day care is too cold for comfort, visit the New York State heat regulations website.
Residents who are eligible can receive financial help to heat their homes this winter. To find out more about eligibility, call United Way's 2-1-1 or the Department of Social Services HEAP unit at 995-5619. You may also check your eligibility by going to New York State's Home Energy Assistance Program (HEAP). Applications can be downloaded from the county's Web site at www.westchestergov.com/heap.


Portable Space Heaters
Portable space heaters can be helpful as a supplemental source of heat for your home in cold weather. However, space heaters can pose fire and electric shock hazards if not used properly. Fire and electrical dangers can be caused by space heaters without adequate safety features and those placed near flammable materials. Safety must always be a top priority when operating a space heater. Here are some tips to keep you and your family safe while using a space heater:
Before using any space heater, read the manufacturer's instructions and warning labels carefully.
Use a space heater that has been tested to the latest safety standards and certified by a nationally-recognized testing laboratory. Look for a label such as ETL, UL or CSA.
Plug space heaters directly into a wall outlet. Do not use an extension cord or power strip, which could overheat and result in a fire.
Place the space heater on a level, hard and nonflammable surface (such as ceramic tile floor), not on rugs or carpets or near bedding or drapes.
Keep space heaters at least three feet from bedding, drapes, paper, furniture and other flammable materials.
Place space heaters out of high traffic areas and doorways where they may pose a tripping hazard.
Keep children and pets away from space heaters.
Never leave a space heater unattended. Turn it off when you're leaving a room or going to sleep.