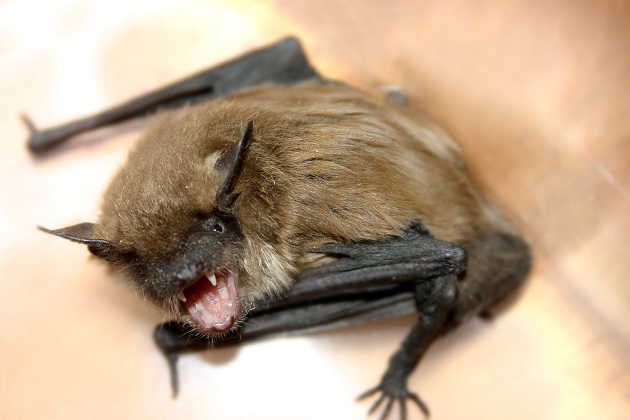 Westchester County Health Commissioner Sherlita Amler, MD, advises residents to take a few simple precautions to prevent themselves, their families and their pets from being exposed to rabies.
"Whether your children are at home in their own backyard or roaming through the woods at camp this summer, make sure they know to stay away from wild and stray animals - no matter how cute and cuddly - to avoid possible exposure to rabies and the need for lifesaving treatment," Amler said. "It's also a good idea to be sure your pets' rabies vaccines are up to date because their risk for exposure to other animals increases during warmer weather, too."
It's equally important to keep creatures out of your home to avoid rabies exposure. "To keep bats out of your home, check to see whether your soffits and attic vents are tightly screened," Amler said. "If a bat gets inside, capture and contain it safely (view the 80-second video on how to safely capture a bat) and call the Health Department immediately. That way, if you, a pet or a family member was exposed, the bat can be tested for rabies, which can help you and your family avoid a series of rabies shots."
Got a bat in your house? Don't panic.
There's a chance that a person or pet in your house had contact with the bat, the most important thing to do is capture that bat and have it tested for rabies. Never let the bat fly out the window if there's a chance of pet or human exposure. If the bat can be caught, its brain will be sent for testing. As long as the bat is not rabid, the person or pet who was exposed can avoid rabies shots. But if the bat is rabid, life-saving vaccines must begin soon.
How to Capture a Bat
To learn how to safely capture a bat, watch this 80-second video. You'll need a coffee can, a stiff piece of cardboard and a bit of bravery.
Turn on room lights and close the windows.
Close the room and closet doors.
Wait for the bat to land.
Wearing gloves, place a coffee can, pail or similar container over the bat.
Slide a piece of cardboard under the container to trap the bat. Firmly hold the cardboard in place against the top of the container, turn it right side up and tape the cardboard tightly to the container.
Once you have caught the bat, call the Westchester County Department of Health at 914-813-5000 to learn what to do next.
Bats often roost in attics or barns, but they can also be found inside closed patio umbrellas. To avoid exposure to bats, secure doors and windows and close off any small openings that will allow an animal entrance into your home. This includes screening, chimneys, attic vents, and air conditioners.
If you are sure no person or pet was exposed to the bat -- only if you saw the bat fly in the house and never lost sight of it --close the room and closet doors, open the windows and watch the bat until it leaves.
You can also call a Licensed - Registered Trapper or police officer.
Rabies is a deadly virus that lives in the saliva and brain tissue of infected animals. Rabies is spread mainly through bites from infected animals. But, the virus can also be spread by scratches and contact with an infected animal's saliva. Rabies is carried mainly by wild animals, such as: raccoons, skunks, bats and foxes. However, stray dogs and cats may also carry rabies.
Teach your children how to behave around pets and wildlife. Never feed, rescue or handle any wild animals. Avoid strays and unknown pets, they can also have rabies. Call your local police department (911) if you see sick, injured or abandoned animals. Wild animals never make good pets and baby animals can be rabid.
What to do if you are bitten
If you are bitten, scratched or have some other exposure immediately wash the area with warm soapy water and call your doctor or hospital. Call the Westchester County Health Department at (914) 813-5000 24 hours a day seven days a week for assistance. Whether this assistance is in the form of a referral or action by the department will depend upon the circumstances. Have your healthcare provider or emergency room staff FAX a completed bite report form to (914) 813-5160. This form is available for download on the After Hours section, which can be found on the gold bar across the top of this page.
Rabies Prevention
Rabies can be prevented by:
avoiding contact with wildlife and stray animals,
bat-proofing your residence,
vaccinating your pets,
keeping your dog on a leash,
keeping your cat inside, and
not providing food or harborage for wildlife.
If an exposure does occur, call the Westchester County Department of Health immediately at: 914-813-5000 and have your healthcare provider or emergency room staff fax a completed bite report form to (914) 813-5160.
Post Exposure Treatment
Rabies post exposure treatment should be considered if the bat:
is found to be rabid
is not available for testing
was untestable
had contact with a person where a bite or scratch or contamination of any open wound or mucous membrane (eye, nose, mouth) could not be ruled out. A bat bite may be difficult or impossible to recognize.
Or, if the person cannot say for sure if they were not exposed because he or she:
is a young child
was asleep
was under the influence of drugs or alcohol
has a sensory or mental impairment.
Pets
Keep your pets immunized against rabies. Under New York State law, dogs, cats and ferrets must receive their first rabies vaccination by the time they are four months old. A second rabies shot must be given within one year of the first vaccination with additional booster shots given every one or three years after that, depending on the vaccine used. Owners who fail to get their pets vaccinated and keep the vaccinations up-to-date may be fined up to $1,000. In New York State and Westchester County, law requires that all cats and dogs receive rabies immunization. The Department now sponsors rabies pet vaccination clinics to assist in having pets immunized.
Wear gloves when handling your pet during and after an encounter with a wild animal or some other suspect animal. If you or your pet is exposed to a suspect rabid animal, if possible keep that animal in sight until the police or a Licensed - Registered Trapper arrives. A vaccinated pet that is exposed to rabies must receive a rabies booster dose within 5 days of the event to be protected. An unvaccinated or overdue pet exposed to rabies must be placed in a strict quarantine for 6 months or destroyed.
Keep cats indoors and dogs on a leash. Spay or neuter your pets. Train your pets, especially dogs, and never play aggressive games such as tug of war with them.
Never feed your pet outdoors to avoid attracting strays and wild animals.
If your pet bites or scratches someone, confine your animal and contact the Westchester County Health Department immediately. You should also contact the veterinarian for your pet's rabies vaccination records.
Keeping the Public Informed
To prevent deaths from rabies, the Health Department issues health alerts to the public about this invariably fatal disease and its prevention, offers immunization clinics for cats and dogs three times a year, facilitates the testing of suspect animals and provides immediate round-the-clock response and follow-up for every potential rabies incident in the county. The department also maintains a rabies hotline, (914) 813-5010, which residents may call to hear information about rabies and its prevention.
Rabies testing in Westchester County:
In 2012, 29 animals (5.7 percent) were confirmed rabid out of 507 tested.
In 2013, 20 animals (4 percent) were confirmed rabid out of 493 tested.
In 2014, 35 animals (5.7 percent) were confirmed rabid out of 611 tested.
In 2015, 41 animals (6.7 percent) were confirmed rabid out of 605 tested.
In 2016, 22 animals (5.0 percent) were confirmed rabid out of 448 tested.
Each year, more than 1,000 animal bites are reported to the Westchester County Health Department. Less than 10 percent tested of the animals submitted for testing were positive for rabies in each of the above years.


Other Resources
Laws and Licensing
Animal Bite/Contact Forms (Rabies)