Hand Washing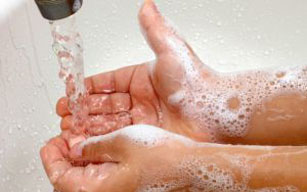 Hand washing is your number one defense against illness. Alcohol-based hand cleansers are also effective.
Westchester County Health Department staffers are available to train educators fun ways to get the message across to children that thorough hand washing is one of the best and simplest ways to prevent the spread of germs and disease.
To clean hands properly, work up a lather for 20 seconds - long enough to sing the Happy Birthday song twice - and then wash with warm water.
If you would like to learn how to give a presentation at your school, call the Health Department at (914) 813-5000.
Join the hand washing campaign. Whether you represent a childcare facility, restaurant, business or camp, you will find what you need to set up your own hand washing campaign in the Healthy Hands Handwashing Kit.
Why?
Hand washing is considered the single most important means of preventing the spread of infection. Ensuring that both educators and children know the correct way to wash their hands will help control the spread of upper respiratory infections like colds, coughs, or flu, and intestinal infections, including those that cause diarrhea.
Proper hand washing is something we should have learned by the time we get through kindergarten. It is a simple, but important technique for everyone to learn and use. It is the most cost-effective way to decrease the spread of illness. Although schools and childcare facilities are excellent places for learning and practicing hand washing, it is becoming a lost behavior.
The quantity and variety of germs that we carry on our hands everyday is astounding. When we forget to wash our hands, or don't wash our hands correctly, we can spread these germs to other people. Hand washing, when done correctly, can help us avoid spreading and receiving germs. Remembering to wash your hands correctly and frequently is the first step toward staying healthy.
How?
Use regular soap. Antibacterial soap isn't necessary. These soaps do kill bacteria, but antibacterial soaps may contribute to the growing problem of antibiotic resistance. Follow the steps below and learn how to properly wash your hands.
Wet hands.
Apply soap and rub for twenty seconds. It's the scrubbing that really counts. It helps to dislodge the germs and send them down the drain.
Rinse
Dry with a paper towel.
Use the paper towel to turn off the faucet.
When?
before you touch anything used to prepare food, and before you touch food that will not be cooked
after you work with raw meat, fish and poultry
after you handle trash and take out garbage
after using the bathroom or changing a diaper
Hand washing is your number one defense against illness.

Teachers Corner
Kids Corner
Resources