Avian Flu- Geese Concern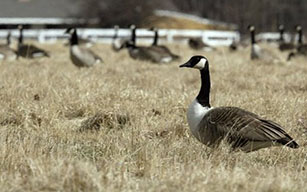 Some residents have expressed a concern about getting diseases from Canada goose droppings in parks, ballparks, reservoirs and other public places. Because many different bacteria, viruses and parasites can be present in bird droppings as well as any other animal droppings, it is best to avoid exposure to them at all times. However, there is no reason to be more concerned about goose droppings than any other animal droppings.
To avoid any potential health consequence follow these guidelines:
Teach children to always wash their hands after playing outside.
If you pick up droppings, use a shovel, "pooper scooper," or gloves - never your bare hands.
If you are worried about exposure during swimming, swim at a regulated beach, where regular tests are conducted to make sure the water is not polluted from human, animal or farm waste. 
Should I feed ducks, geese and other waterfowl?
Although many people enjoy feeding waterfowl, in parks or private property, this often contributes to goose problems. Feeding may cause large numbers of geese to congregate in unnatural concentrations.
Supplemental feeding also teaches geese to be unafraid of people, making control measures less effective. Feeding may be unhealthy for the birds too, especially if bread or popcorn becomes a large part of their diet. Supplemental feeding should be stopped as a first step in any control program. Wild geese are vary capable of finding other foods and will survive without handouts from humans.
How can I discourage geese from spending time in my yard?
Geese are grazing birds that prefer short, green grass or other herbaceous vegetation for feeding. Well-manicured lawns and newly seeded areas provide excellent habitat for these grazing birds. Whenever possible, let grass or other vegetation grow to its full height (10 - 14") around water bodies so that it is less attractive to geese. In time, most geese will stop feeding in those areas.
Learn about the Avian or Bird Flu from the Web sites and publications listed below.