Cover Your Cough
Where can I go to get a flu vaccine?
Adults looking for a flu shot should check with their primary provider or a local pharmacy chain. To find a flu shot at a pharmacy near you, enter your zip code, but call ahead to verify that vaccine is available when you want to go.
White Plains Urgent Care,
10 Chester Avenue, White Plains, NY (914) 448-1000. Flu vaccine for ages 6 months to 36 months and ages 5 and up, and adults.
Prescription Plus Pharmacy, 1864 Pleasantville Road, Briarcliff Manor, NY, (914) 945-0000. Adults and children.
Does your child need a flu shot?
If you're looking for a flu shot for your child, check with his or her pediatrician or try one of the local neighborhood health centers listed here. Be sure to call ahead to find out if they have vaccine in stock:
White Plains Urgent Care,
10 Chester Avenue, White Plains, NY (914) 448-1000. Flu vaccine for ages 6 months to 36 months and ages 5 and up, and adults.


St Joseph's Carvel family Health Center,
81 S. Broadway, Yonkers NY (914) 375-3200


Mt Vernon Neighborhood Health Center,
107 W. 4th St 1st floor, Mt Vernon, NY (914) 699-7200


Yonkers Community Health Center,
30 South Broadway, Yonkers, NY 10701, (914) 968-4898


Greenburgh Neighborhood Health Center,
330 Tarrytown Rd, NY (914) 989-7600



Dr Lillian Gonzalez, Southern Westchester Pediatrics, 105 Stevens Ave.
Suite 306, Mt Vernon, NY, (914) 667-3030. VFC vaccine available for VFC/CHIP-eligible children who receive Medicaid Child Health Insurance Program, or who are uninsured or underinsured.
What do I need to know about the flu vaccine?
It's recommended for everyone six months of age and older, according to vaccine experts at the federal Centers for Disease Control and Prevention in Atlanta.
Also, flu shots are widely available at many independent and chain pharmacies and some grocery stores. As always, anyone with chronic medical conditions should consult his or her physician and get the facts about the flu shot.
New this year is an intradermal flu vaccine, which is administered on the surface of the skin, not into the muscle, and should minimize soreness.
The good news is, most people who have had a flu shot before will need only one dose. This year's flu vaccine will provide protection against three different strains of the flu. It includes the H1N1 virus, along with two other flu viruses. And remember, you can't get the flu from an inactivated flu vaccine.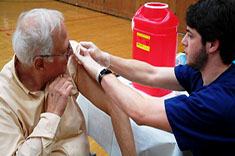 Flu shots are especially recommended for pregnant women, children age 5 and under, people age 50 and older, people with certain chronic medical conditions, people who live in nursing homes and long-term care facilities and health care workers or others who live with or care for those at high risk for flu complications, including infants less than six months old, who are too young to be vaccinated.
While the flu shot is a good idea for most people, you should always check with your health care provider first, especially if you have a severe allergy to chicken eggs, have had a severe reaction to a flu vaccine or have developed Guillain-Barre syndrome within six weeks of getting a flu vaccine. Anyone with a moderate to severe illness with a fever should wait until they have recovered to get vaccinated.
A good time to schedule flu shots and any other immunizations
While the flu shot is on your mind, now is a good time to schedule a checkup and review whether you or your family members are due for any other immunizations.
You can make an appointment or walk in and get a flu shot at most pharmacies, or you can ask if your physician offers the flu shot. Most children will need to get the flu shot at their pediatrician's office.
Help prevent the spread and contraction of the flu by following the "Four C's"
Contact: Avoid close contact with people who are sick. If you are sick, keep your distance from others to prevent them from getting sick. Equally important is avoiding contact with your eyes, nose and mouth since the virus spreads by entering the mucous membranes in these areas.
Contain: If you are sick, stay home from work, school and public areas. By doing so, you will help prevent others from getting sick.
Cover: Cover your nose and mouth with a tissue when you sneeze or cough to protect others from getting sick. Since you may be contagious even before you realize you are sick, it is important to make this habit routine.
Clean: Clean your hands in hot soapy water often. Hand washing is one of the most effective, yet overlooked ways of preventing the spread of illness.
Download these printable brochures and fact sheets
Flu fact sheets for people with medical conditions
Resources