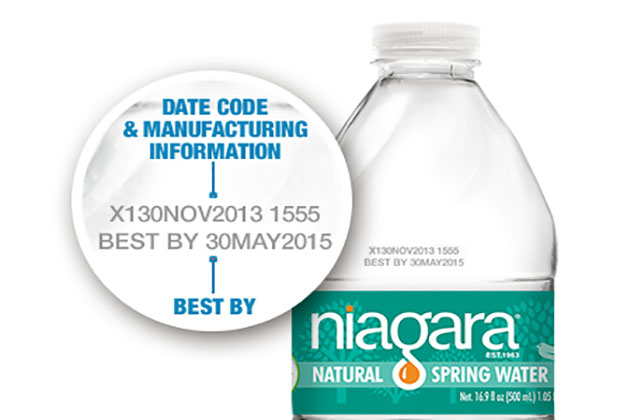 Niagara Bottled Spring Water Recall
June 25, 2015
Niagara Bottling LLC has recalled all spring water products produced at its two Pennsylvania facilities between June 10-18, 2015, after being informed that the water source was potentially compromised by E. coli bacteria.
VERY IMPORTANT: No other dates of Niagara bottled water are affected by this recall.
There have been no reports of any illness or injury related to the above mentioned products to date and finished product testing detected no contaminants or issues of any kind. This voluntary withdrawal is being implemented in cooperation with State and Federal Agencies.
If you have questions about which products are affected or for more information, please contact Niagara Bottling LLC online or at (888) 943-4894.

BRANDS INCLUDED IN THIS RECALL:
Acadia Spring Water
Acme Spring Water
Big Y Spring Water
Best Yet Spring Water
7-11 Spring Water
Niagara Spring Water
Nature's Place Spring Water
Pricerite Spring Water
Superchill Spring Water
Morning Fresh Spring Water
Shaws Spring Water
Shoprite Spring Water
Western Beef Blue Spring Water
Wegmans Spring Water
STATES IMPACTED BY THE VOLUNTARY SPRING WATER RECALL:
Connecticut
Delaware
District of Columbia
Maine
Maryland
Massachusetts
New Hampshire
New Jersey
New York
North Carolina
Pennsylvania
Rhode Island
Vermont
Virginia
West Virginia