Alerts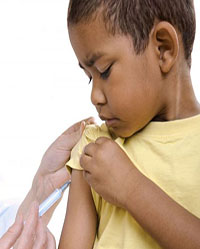 Measles Outbreak
There is currently a multi-state outbreak of measles associated with travel to Disneyland Resort Theme Parks in California, which includes Disneyland and Disney California Adventure. It is likely that this outbreak began when a traveler who was infected with measles overseas visited one or both of the Disney parks during their infectious period.
Measles was declared eliminated in the United States in 2000 and was achieved through high population immunity as a result of good measles vaccination rates in our country. However, measles is still prevalent in many parts of the world, and outbreaks can occur in the U.S. when unvaccinated groups are exposed to imported measles virus. These outbreaks are examples of why it is so important for everyone to get vaccinated and keep their vaccines up to date.
Measles is a highly contagious, viral illness. It begins with fever, cough, runny nose and conjunctivitis (pink eye), which lasts two to four days prior to rash onset. Measles can cause severe health complications, including pneumonia, encephalitis, and death. Measles is transmitted by contact with an infected person through coughing and sneezing. Infected people are contagious from four days before their rash starts through four days afterwards. After an infected person leaves a location, the virus remains viable for up to two hours on surfaces and in the air.